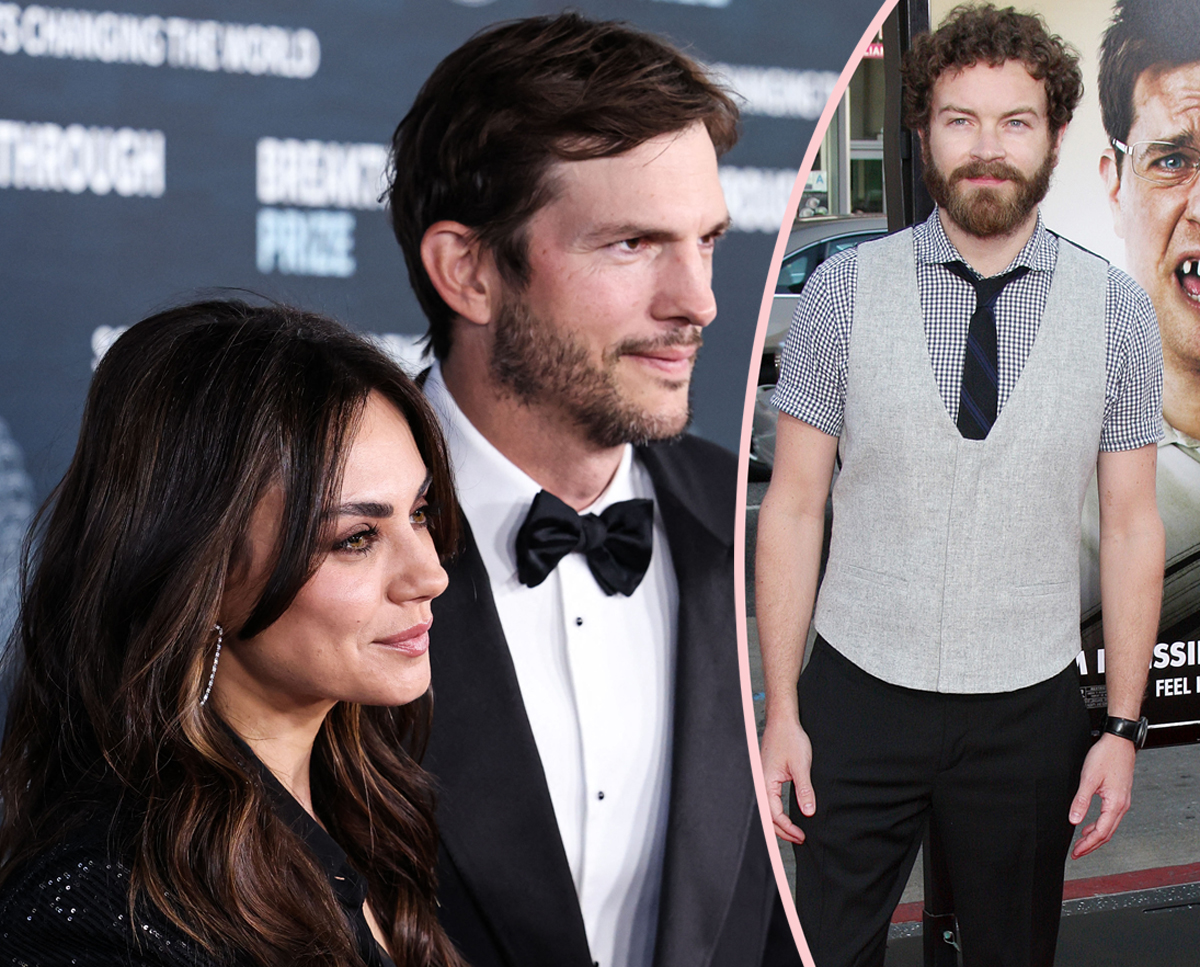 [Warning: Potentially Triggering Content]
A sufferer of Danny Masterson is understandably seeing pink after studying about Ashton Kutcher and Mila Kunis' letters of help for his or her That '70s Show co-star in his rape case.
Chrissie Carnell Bixler – who dated the 47-year-old actor and was one in all three girls who accused him of sexual assault throughout his trial – took to Instagram Stories on Friday to tug the couple for requesting leniency earlier than his sentencing listening to, the place he acquired 30 years to life in jail. And she even threatened to reveal some "secrets" about Ashton that might spoil him!
Posting a picture from a report with the quotes describing Danny as a "role model" with "exceptional character," she claimed:
"Dear Ashton, I know the secrets your 'role model' keeps for you. Ones that would end you. Did you forget I was there? You were on speaker phone that night you called Danny on February 21, 2001. I heard everything. I heard the plan. In my opinion, you're just as sick as your 'mentor.'"
Related: Topher Grace's Wife Shows Support For Rape Victims After Danny's Sentencing
Hold up, is she referring to the evening his date Ashley Ellerin was murdered by the "Hollywood Ripper" Michael Gargiulo?! She didn't share any extra particulars in regards to the allegations and continued to maintain the remainder of her assertion very imprecise. Chrissie moved on to Mila, suggesting she knew about an alleged troubling scenario that occurred between the Black Swan star and Danny:
"Dear Mila, I pray you begin to process what you experienced as a child on that set. Your old interviews are very telling (I encourage everyone to watch them and decide for yourself what you hear and see. Do so before they get scrubbed from the internet) I also know what happened in Toronto and after. Question, if that's what you view as a normal relationship with a 'big brother figure' then I feel very sad for you, and I hope you consider getting into therapy. You all must forget I was there the whole time those first 5 years of That 70's Show. I remember everything."
Um, WHAAAAT?! Chrissie went on to assert in a follow-up slide that Danny "hated" their co-star Topher Grace and "bullied" him on set:
"Topher was bullied by Danny Masterson and isolated by most of them because Danny's like a cult leader. Danny hated Topher because Topher didn't bow to Danny like his other younger castmates. I loved Topher. If I so much as said hi to Topher, I would be given a scolding and then ignored by Danny. It broke my heart. He was the only guy on that set with integrity and a moral compass. That's my experience. I was there."
Whoa. You can see the posts (beneath):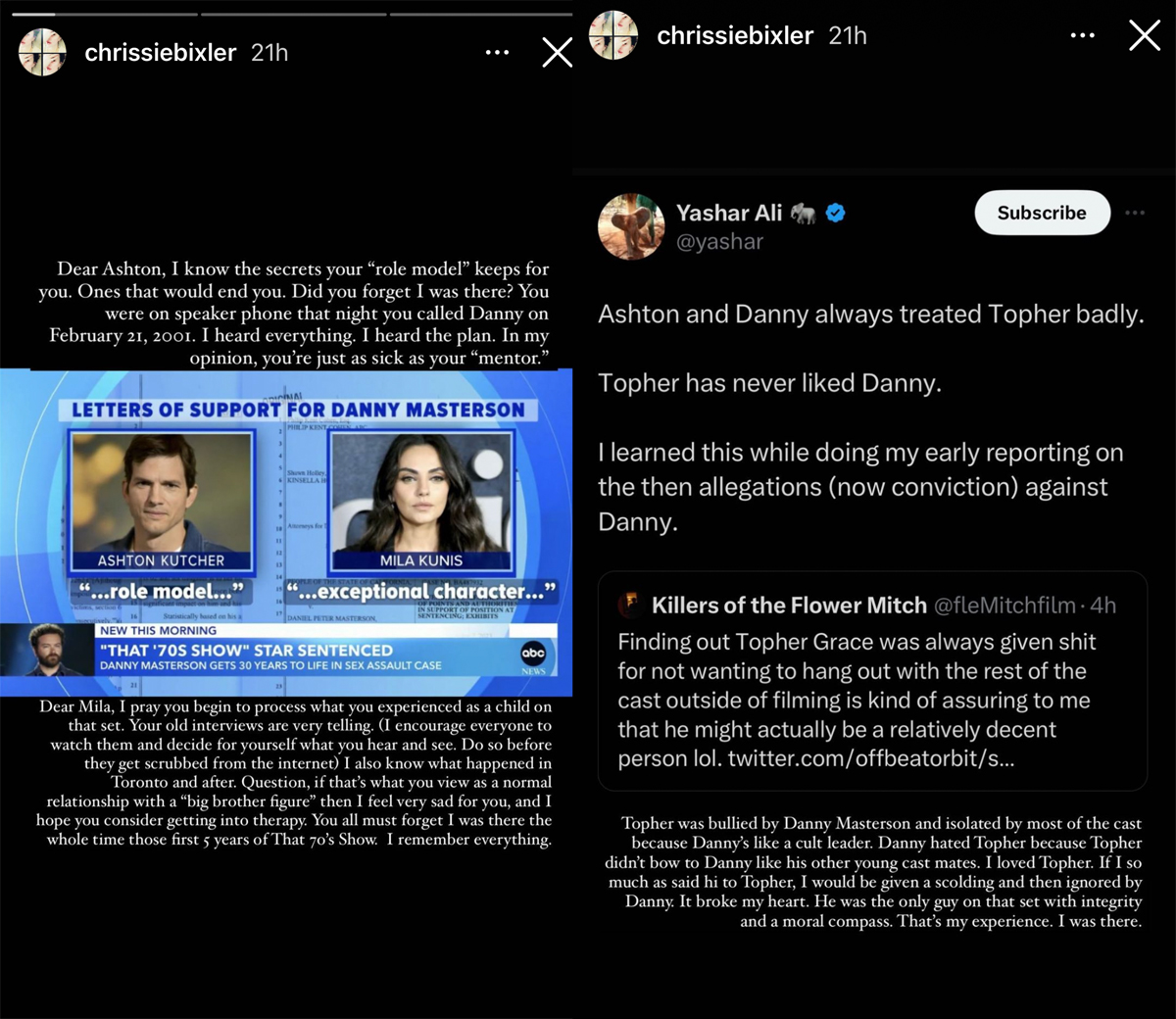 Mila and Ashton haven't addressed this assertion from Chrissie. However, they've since publicly apologized for "the pain that has been caused by the character letters that we wrote on behalf of Danny Masterson."
It is understandably why Chrissie can be very harm by the character letters, because it comes throughout like Mila and Ashton don't help victims. But what do you make of those accusations, Perezcious readers? Let us know within the feedback beneath.
If you or somebody you already know has skilled sexual violence and want to study extra about assets, contemplate trying out https://www.rainn.org/resources. 
[Image via MEGA/WENN, WENN]